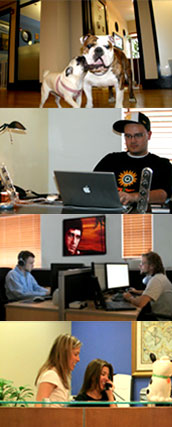 WorldNetMedia's broad-based experience in Internet properties is founded on an in-depth understanding of modern technology and multimedia solutions that drive performance. WNM combines its unique expertise and knowledge with a commitment to service excellence to deliver optimal solutions that exceed expectations.
"What you will find are creative forward-thinkers in a fun, and incredibly supportive environment. We work hard, we have fun, and we love what we do!"
WorldNetMedia is looking for people with world-class skills who thrive in high-energy environments, and are just as passionate about their lives as they are about their work.
Resourcefulness and creativity are encouraged; as you will be challenged daily and must be able to think outside the box! We believe in working smart, playing hard, and enjoying the sort of creativity that only comes about when talented people from diverse backgrounds approach matters from varying perspectives.
We value talent and intelligence, diversity and ingenuity. Does this sound like you? If so, there may be a place for you, and we can put you there.